Armenian National Opera and Ballet Theatre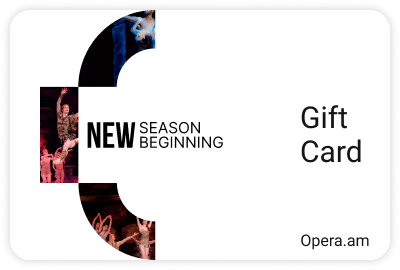 Choosing a gift is no longer a hassle.
"National Academic Theater of Opera and Ballet named after A. Spendiaryan" presents the SPENDIARIAN GIFT CARD.
In the 21st century, it has become fashionable to give gift cards on holidays and not only. You decide how much to pay, they decide which show they want to see.
SPENDIARIAN GIFT CARD is an ideal gift option that meets all your requirements for choosing a gift. Choose only the amount of the card, in the range of 20,000-100,000 AMD.
The card allows you to watch any opera or ballet performance. It is intended to be used exclusively in the cashless version within 1 year from the date of purchase of the card.

The card is provided on the spot, in a special stylish and elegant packaging, or you can purchase it online at www.opera.am.
And what advantages will the card provide?
Freedom of choice
Beautiful design and packaging
You can order the SPENDIARIAN GIFT CARD.
Online through www.opera.am website
Approach the Theater box office
You can activate the Spendiarian Gift Card by approaching the Theater ticket office.
In case of card expiration or card loss, the card cannot be reissued.
The Gift Card is not a product. it is non-refundable and non-exchangeable.
The face value of the Gift Card is not preventive. it is possible
to be used only for the performances of the National Academic Theater of Opera and Ballet named after A. Spendiaryan.
To use the gift card, it is necessary to submit information from the official website of the Theater or the official Facebook page.
The Card is valid until and including the last day of the month indicated on the front of the Card